Audi Aluminum Repair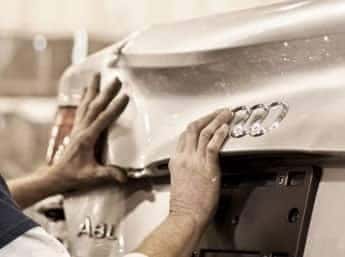 Unfortunately, accidents do occur and if your Audi is damaged in a collision, we want to ensure that you have access to a collision repair shop that meets not only your rigid standards but also meets those standards for workmanship, integrity, and safety of the manufacturer.
All Audi Authorized Collision Repair Facilities are recommended to use only Audi Genuine Parts that are backed by the Audi Manufacturer Vehicle Warranty. As an Audi Authorized Collision Repair Facility, our technicians undergo extensive ongoing training in the proper use of the Audi factory-approved repair equipment, and the tools and technologies required to guarantee that your repair meets Audi's exact standards and specifications.
Oxmoor Collision is one of the few Audi Aluminum Collision Repair Network facilities in the country. Our facility is required to be TÜV certified and must be re-certified every two years. We are authorized to repair any Audi vehicle, but only Audi Aluminum Repair Facilities are allowed to repair your Audi A8, TT or R8 with aluminum damage.
Oxmoor Collision works diligently to bring your vehicle back to Audi's quality of craftsmanship. Our mission is to restore your Audi back to its pre-accident condition each and every time.
If you are involved in a collision, simply call us to start the repair process for your Audi. You can also contact your nearest Audi dealership to begin the process of towing your vehicle to our location, even for out of state repairs. Always remember, you are the one who decides where your vehicle is repaired. Often times insurance companies want you to use a shop they are set up with but if your Audi is damaged in a collision, make sure you select a shop that is authorized by Audi to repair your vehicle correctly and safely. Make sure you use Oxmoor Collision, part of the Oxmoor Auto Group.