Paintless Dent Repair
Low Cost
Auto paintless dent removal (PDR) is 1/3 the price of traditional methods and usually lower than your deductible.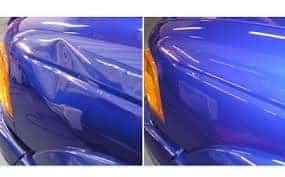 Fast
In most cases, on-time PDR mobile units can arrive at your location within 24 hours. Most dings and dents are removed within 30-60 minutes!
Guarantee
Oxmoor Collision Center PDR fully guarantees that ALL of our paintless dent removal services are done to your complete satisfaction or no charge will be applied. Real Quality, Real Value, Real Fast, Guaranteed!
About Paintless Dent Removal
Oxmoor Collision Center Paintless Dent Removal is "the art of massaging metal back into its original form." It is the fastest, most efficient, cost-effective method of removing door dings, creases and minor dents from your auto or motorcycle tank without disturbing your factory or custom finish.
Performing paintless dent repair takes much practice and long experience to produce consistent, high-quality results time and time again. Here at Oxmoor Collision Center, you'll get just that! In most cases, a single car door ding repair can take 10-20 minutes and multiple dings usually under 1 hour.
Oxmoor Collision Center guarantees all ding and dent repairs are done to your complete satisfaction or no charge is applied. Here at Oxmoor Body Shop, we'll remove your ding or dent right the first time, along with high-quality service and value!
Real Quality. Real Fast. We Guarantee It!