Oxmoor Ford Lincoln Certified Collision Care Provider
Ford's national network of Certified dealerships helps to ensure that consumers have a Certified choice should they need to get their Ford vehicle repaired. The consumer still has a choice, but now they have a complete national blanket of Certified and Recognized body shops to choose from. This coverage creates the basis for a Consumer Referral Program (CRP). With national coverage,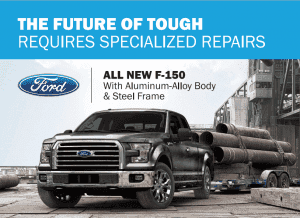 Ford is able to promote collision care providers based upon quality, safety and proper repairs. This is especially critical with the introduction of the new 2015 F150, built with an innovative, high-strength, military-grade, aluminum-alloy body. For the first time, shops with the right tools, equipment, training and facilities have the ability to distinguish themselves from those that do not have what it takes– Oxmoor Collision is that Auto Body Shop.
And now, with the introduction of structural aluminum to the Ford Lincoln lineup, it is more important than ever to have a Certified Ford Aluminum Body Shop. Oxmoor Collision Center is not just your Certified Ford Lincoln Body Shop, but we are also Certified with Porsche, Jaguar, Audi, Land Rover, we know aluminum auto repair.