Body Repair
We are proud to have a staff of ten body technicians that are well trained. Certified by I-CAR hold the highest certification platinum and are ASE master certified. We pride ourselves in have quality people performing quality repairs.
The goal of any auto body shop or auto collision repair business should be not only to quickly and precisely repair vehicles, but also to calm the nerves of already anxious customers who have enough to worry about after the fallout of an auto accident. We eliminate stress from the collision repair process in various ways, including: Fast Service – For most collision repair, our trained auto technicians can have your car back to you on the same day. That means no waiting and no more needless inconvenience – you've been through enough already.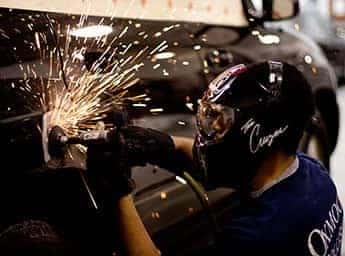 Affordability
We are so sure our collision repair prices can't be beat that we encourage our customers to get second opinions and estimates. Our prices are value-driven and economical so you don't have to add finances to your worries.
Availability
We are exactly where you need us. Conveniently located on Electron Drive in Louisville Kentucky.
Flexibility
From fender benders that result in cracked fenders to sideswipes that require precise auto body paint matching and application, auto collisions can affect various areas of your car, making flexible and thorough collision repair a necessity. Our trained technicians are the best in the business and can provide you with a variety of services, including paintless and traditional dent removal, plastic bumper repair, car scratch repair, and frame work.
In addition to all this, Oxmoor Collision Center offers free, exact quotes to completely eliminate any concerns you may have about prices while your car is being repaired. Auto collision repair is about restoring your car to its former health and beauty to ensure you have a safe ride—not about misleading "estimates." And if you're not satisfied with the auto collision repair we've provided, you won't pay a dime until you're completely happy with the results.
For all these benefits and more, contact Oxmoor Collision Center. We're here to serve you and provide you with the fastest, most effective collision repair you can get.